MOST PIANO NOTES PLAYER WITH BOTH HANDS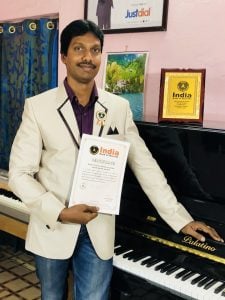 The ultimate measure of a man is based on his performance. Music has super natural power to attract all the living things through its melodious tone. It is a special gift of god for that no language is required.
T. S. Satish kumar (born on November 16, 1975) of Secunderabad, Telangana, India, became the Most Piano Notes Player with both hands as on January 16, 2018. He played 1998 notes in 1 minute and 43 notes in 1 second at The Plaza Hotel, Begumpet, Secunderabad.